Application of Laser marking machine for easy tear line of composite bag
Composite packaging bags are mainly used for the packaging of clothing, hardware, food, medical, cosmetics, beverages and other products. In recent years, the global demand for composite packaging bags has maintained a rapid development trend. There are many kinds of base materials that can be used for composite packaging bags. The commonly used base materials are: high density, medium density, low density polyethylene film (HDPE, MDPE, LDPE), tensile and non tensile polypropylene film (BOPP, CPP), polyester film (PET), polyvinyl chloride film (PVC), nylon film (NY), etc.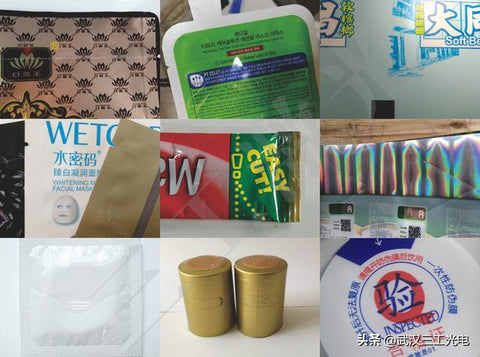 Common types of composite packaging bags are: paper / plastic composite, plastic / plastic composite, aluminum / plastic composite, etc. The number of composite substrate layers can be two, three, four, five or more. According to the type and thickness of composite plastic film substrate, the number and order of composite layers, and the composite method, many kinds of composite packaging bags can be formed.
The laser equipment is installed on the slitting machine or rewinder, and laser technology is applied to cut, scribe, punch and slice soft packaging materials such as polyester, aluminum foil, paper, etc. The processing method is to use the laser beam, and through focusing on the designed solid line, dotted line, wave line and easy to tear line, a fine line with a depth of only a few microns is cut. Due to the advantages of laser in focusing, the focus can be small to the sub micron order of magnitude, so that the micro processing of materials has more advantages, and the cutting, marking, marking, marking and hole drilling depth are controllable. Even at the low pulse energy level, it can get high energy density and effectively process materials.
The laser process belongs to non-contact processing, and the cutting, marking and punching patterns can be set at will. At the same time, the machine has the laser technology functions of marking, marking, solid line, dotted line and wave line. The laser process equipment can work on different thickness of coil materials, which has better compatibility and universality.