Dapeng laser cleaning machine [laser paint removal, laser rust removal, laser oil removal]
Product advantages:
Stable equipment, low operating cost, zero consumables, long-term use, zero maintenance.
Imported laser, good beam quality, long life.
No damage to the processing substrate, energy saving and environmental protection, no secondary pollution.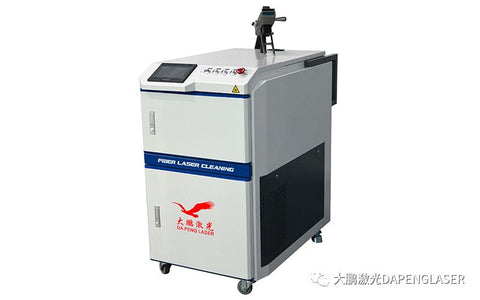 Features:
Easy to install, light and compact, low noise, suitable for all kinds of processing environment.
Fast, smooth and accurate cleaning to remove surface paint, coating and oxide layer.
No chemical reagent, no water, no dust environmental cleaning.
Special laser control system, powerful function, can realize automatic operation
Application fields:
Can clean various mold, metal tools rust, oil, paint, etc.
It is mainly used in mould, hardware, electronics, metallurgy, petrochemical industry and other industries.
Shenzhen Dapeng Laser Technology Co., Ltd. was founded in 2008. It is a national high-tech enterprise of laser equipment integrating R & D, manufacturing, sales and service. It is committed to laser technology research and development, laser equipment design, development, production, technical support, service and consultation.
Our main products include: laser cutting machine, laser welding machine, Laser marking machine, special and automatic laser equipment, etc., which are used in electronics, IC chips, electrical appliances, lighting lamps, jewelry, hardware tools, sanitary ware, instruments, auto parts, mobile phone communication parts, moulds, precision machinery, medical devices, it digital, metal shell Military aviation parts, clothing leather, craft gifts, advertising decoration, models, cooking utensils, Kitchenware and other industries.
Dapeng laser has stable and reliable product quality, has a professional R & D team, and pursues excellent quality. Meanwhile, Dapeng laser also provides customers with timely and comfortable pre-sale, in-sale, after-sales service and excellent cost-effective products. Dapeng laser has won the trust and praise of the majority of users by implementing the business concept of "helping customers succeed, creating value models and building high-end brand of service in the industrial laser equipment industry". Customers are distributed all over the country and overseas, and in 2017, more than 6000 laser equipment are sold.
The company has established a perfect production and sales and after-sales service system. It has production bases in Shenzhen, Wenzhou and Kunshan, and large laser cutting machine production bases in Dongguan. It has more than 20 offices in major industrial cities and regions in China. Each office has equipment display, process proofing, sales and after-sales service. It is resident in technical service personnel to provide timely service for customers Comfortable pre-sale, in-sale, after-sales support and service.
Dapeng people know that quality and service are the foundation of the company's survival, innovation is the foundation of the company's long-term development, help customers create value and strive to build a famous brand in the laser equipment industry.