Dapeng laser [led eight position laser marking] laser marking of light bulb, plastic and ball
Features:

*According to the different needs of customers, optical fiber machine, semiconductor, CO2, UV, EP end pump and other models can be selected;

*Automatic rotary feeding saves manpower;

*The segmenter is located accurately;

*Optional double head system.

Product advantages: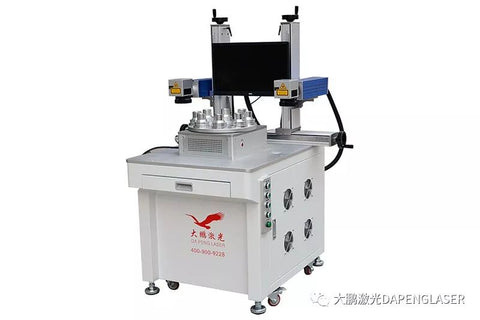 High power multimode laser diode is used as the pump source, mirror doped double clad fiber is used as the laser medium, the beam is transmitted by the fiber, and the high-speed movement of the beam is controlled by X and Y scanning lens (its speed is more than 3 times of that of the traditional marking machine);

Files compatible with CorelDRAW, AutoCAD, Photoshop, etc;

It supports PLT, PCX, DXF, BMP, JPGE, etc., and can directly use SHX and TTF word libraries;

Support automatic coding, printing serial number, batch number, date, bar code, QR code, etc.

Shenzhen Dapeng Laser Technology Co., Ltd., established in 2008, is a national high-tech enterprise integrating R & D, manufacturing, sales and service of laser equipment. It is committed to R & D of laser technology, design and development of laser equipment, production, technical support, service and consultation.


The company's main products include: laser cutting machine, laser welding machine, laser marking machine, industry-specific and automatic laser equipment, etc., which are used in electronics, IC chips, electrical appliances, lighting lamps, jewelry, hardware tools, sanitary ware, instruments, auto parts, mobile communication parts, molds, precision machinery, medical devices, it digital, metal shell Military aviation parts, clothing leather, craft gifts, advertising decoration, models, cookware, tableware, Kitchenware and other industries.

Dapeng laser's product quality is stable and reliable. It has a professional R & D team and pursues excellent quality. At the same time, Dapeng laser also provides customers with timely and comfortable pre-sale, in sale and after-sale services and excellent cost-effective products. Dapeng laser has won the trust and praise of the majority of users through the implementation of the business philosophy of "helping customers succeed, creating a model of value, and building a high-end brand of industrial laser equipment industry service". Customers are distributed all over the country and overseas, and sold more than 5000 sets of laser equipment in 2016.

The company has established a complete production, sales and after-sales service system. It has production bases in Shenzhen, Wenzhou and Kunshan, large laser cutting machine production bases in Dongguan, and offices in major industrial cities and regions in China. All offices have equipment display, process proofing, sales and after-sales services, and resident technical service personnel to provide timely and reliable service for customers Shuxin's pre-sale, in sale, after-sale support and service.


Dapeng people deeply understand that quality and service are the foundation of the company's survival and innovation is the foundation of the company's long-term development. They help customers create value and strive to build a well-known brand in the laser equipment industry.