Han's laser: a complete set of laser processing solutions and related supporting facilities
Dahu Laser Technology Industry Group Co., Ltd. is one of the main laser processing equipment manufacturers in the world, and is dedicated to providing a complete set of laser processing solutions and related supporting facilities for domestic and foreign customers. The main products include: Laser marking machine series, laser welding machine series, laser cutting machine series, high-power laser cutting and welding equipment, linear motor, LED equipment and other series of more than 200 kinds of industrial laser equipment and their supporting products. The ethnic laser is the first in the domestic laser equipment, and is widely used in electronic circuit, integrated circuit, instrument, computer manufacturing, mobile phone communication, automobile accessories, precision equipment, building materials, clothing, urban lighting, gold and silver jewelry, craft gifts and other industries, and helps the manufacturing industry to transform and upgrade.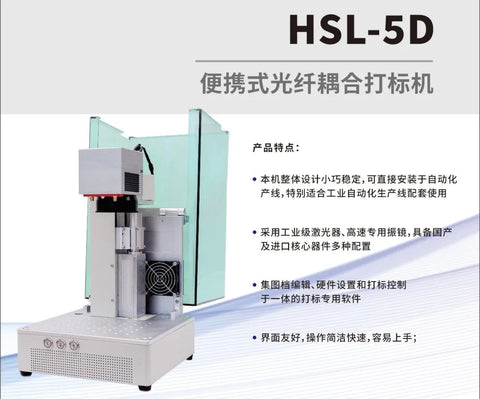 Portable optocoupler and marking machine hsl-5d
Highlights:
The machine is compact and stable in design, and can be directly installed in the automatic production line, especially suitable for industrial automation production line
Industrial grade laser, high-speed special galvanometer, and various configurations of domestic and imported core components are adopted;
Special software for marking, which integrates drawing file editing, hardware setting and marking control
Actual cases:
Application: aluminum, gold, silver, copper, iron, stainless steel and other metal materials, PP, pet, PVC, ABS, paper, leather and other non-metal materials
High precision five axis linkage welding system
Highlights:
3D software is used to generate welding path, and CCD compensation is used to realize high-precision welding.
The system adopts the tool tip following function of numerical control system to keep the focus between the product welding track and the laser at high speed.
The linr motor is used in the motion axis of welding worktable, which has high precision and convenient control. CNC program can be written to weld workpieces at different levels.
It can weld any three-dimensional surface graphics, linear or nonlinear parts trajectory.
The continuous and smooth free-form surface welding can be completed by one clamping, which can reduce the positioning error and shorten the auxiliary time.
It can weld products with irregular shape and poor consistency of incoming materials.
Actual cases:
It is widely used in IT manufacturing, electronic circuits, instrumentation, mobile communication, hardware tools, household appliances, kitchen, automotive industry and machining industry.
Automatic double stage PCB on line cutting system
Highlights:
Double station platform, with high precision motion platform, is more stable and safe than cylinder. PCBA board is alternately processed to reduce waiting time and improve production capacity.
High pixel vision system, flight shooting, auxiliary program teaching and editing function, higher precision and clearer image;
Equipped with independent vacuum cleaner, the vacuum tube moves with the spindle milling cutter to remove dust effectively.
High speed imported spindle, equipped with broken tool detection, automatic tool change system and milling tool life monitoring function.
Actual case: This equipment can process 0.3 ~ 3mm thick PCB / PCBA board, the internal stress generated by cutting is small, tin crack can be effectively avoided, damage to precision parts can be prevented, and the cutting edge is neat without burr. Solve the impact of manual breaking, V-CUT cutting and stamping, improve product quality and reduce scrap rate