Han's laser "great power weapon" -- domestic equipment leader confirms to participate in dic2021
On December 18, 2020, the first domestic mass production LLO equipment developed and produced by Han's laser officially entered the 6th generation flexible ltps-amoled display panel production line of Huaxing optoelectronics, and the move in ceremony was held in Wuhan Huaxing optoelectronics T4 factory. This LLO device is based on the industry-leading excimer laser.
Since the coherent laser has previously announced that the excimer laser scheme is used in the large plate stripping LLO equipment of panel enterprises in the display field, the first domestic mass production LLO equipment has been successfully moved to Huaxing optoelectronics, which will change the existing situation to a certain extent, This not only marks another key breakthrough of Han's laser technology research and equipment production in the field of flexible display panel, but also directly promotes the localization process and development of China's new display panel industry.
Today, the global display industry is undergoing unprecedented changes. Looking back on this year, OLED, mini / micro LED (PS: DIC will hold a special forum this year), laser display, qled and other new display technologies are in full bloom. At the same time, LCD production line is still in no decline. Focusing on panel leaders such as BOE, TCL Huaxing, Tianma and vicino, many Chinese material and equipment manufacturers have gradually grown into enterprises capable of carrying the banner of "domestic substitution". Han's laser is an important member of these enterprises.
Recently, Han's laser once said that the sales volume of mechanical drilling machine, the company's leading product, has continued to grow. The share of laser products such as multi category LDI equipment, CO2 laser drilling equipment and customized high-precision testing machine has increased rapidly, and the overall competitiveness has been continuously enhanced.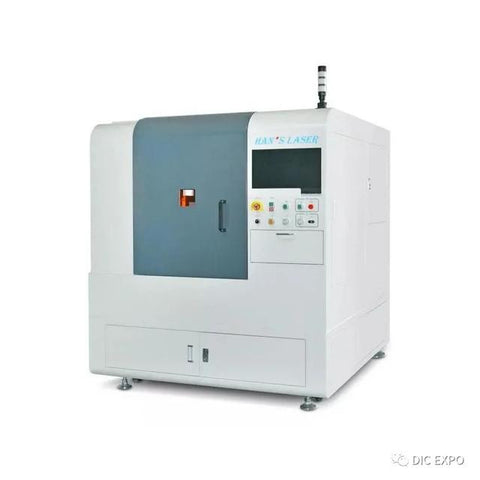 The resolution of Han's laser is 3-5 μ m. It mainly focuses on the application of 5g communication supporting discrete devices, led, mini / micro led new display, etc., and has realized small batch sales.
Main products:
The main products include: Laser marking machine series, laser welding machine series, laser cutting machine series, high power laser cutting and welding equipment, linear motor, LED equipment and other series, more than 200 kinds of industrial laser equipment and supporting products.
It is widely used in electronic circuits, integrated circuits, instrumentation, computer manufacturing, mobile communication, auto parts, precision equipment, building materials, clothing, city lighting, gold and silver jewelry, craft gifts and other industries to help the transformation and upgrading of the manufacturing industry.
Advantages of hdz-gcf3000 ultra fast laser glass cutting machine:
Non contact machining, less damage to materials, high cutting accuracy;
Layered solid cutting can be used to cut non reinforced and reinforced glass;
The single point action time of glass is short, the heat affected area is small, and no glass debris is produced;
High speed cutting with linear motor, high efficiency.
Scope of application:
For dol < 50 μ M glass and sapphire, mobile phone cover glass, camera protective lens, home key cover plate, optical lens and other rapid abnormal cutting, cutting edge collapse less than 0.005mm.
Super Laser marking machine hn-gy-ps60
Equipment features:
The light splitting system divides a single laser into two channels and controls them separately, which effectively improves the utilization and production efficiency of the laser;
The power monitoring module can monitor the fluctuation of laser power in real time; With electric wave plate, the power can be compensated in real time to ensure the stability of processing power;
3D marking module can accurately mark the surface;
CCD vision system can locate and mark the product.
Application scenarios:
Stainless steel typing, inking, glass invisible code, micro code, ceramic processing, PVD, deburring, superhydrophobic, etc.
H20 / HM20 fiber Laser marking machine
Optical fiber Laser marking machine output beam quality is good, high reliability, can carve metal materials and some non-metal materials, mainly used in the smooth degree, high precision requirements of the field, such as in electronic products, hardware sanitary ware, clocks, jewelry, IC, plastic keys and other surface graphics marking. Bitmap marking effect is particularly outstanding.
Compared with Q switch, HM20 fiber Laser marking machine (MOPA laser) has faster marking speed, smaller material stress deformation, more kinds of marking effects, and can mark on more materials.
The HL marking software developed by Han family has accumulated more than ten years of industry experience and contains profound process characteristics.