Intelligent fiber Laser marking machine
Today, the 2021 Munich Shanghai Light Expo is grandly opened in Shanghai New International Expo Center. Han's Yueming laser group, with a number of new generation of fist equipment from its subsidiaries and business divisions, shows the strength and style of Han's Yueming laser group, and fully demonstrates its unique attainments and significant advantages in the laser industry.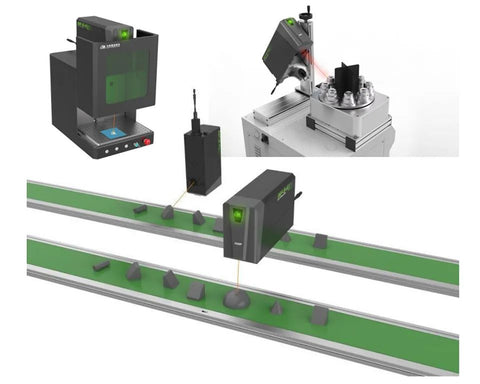 We sincerely invite new and old customers to visit booth 2501 of W2 hall to appreciate the highly efficient and perfect intelligent laser solutions of Han's Yueming laser group.
Model recommendation
Intelligent optical fiber marking machine imf-b-a
Equipment highlights
3D stereo marking function: the three-axis dynamic module designed by Han's Yue Ming can realize precise and high-speed laser zoom control in the z-axis direction, so as to realize carving on the product surface with high and low drop. Even in the surface, slope and other 3D products can also achieve consistent fine carving effect.
Auto focus function: in the working process of the traditional marking machine, if the product height changes, it will produce defocusing, the processing effect will be weakened, the lines will become thicker, and the processing quality can not be guaranteed. IMF can automatically collect the height data of the product through the distance sensor, and carry out automatic zoom processing to ensure the quality consistency of laser marking.
Online assembly line automatic visual positioning and marking: the machine is equipped with camera positioning and marking function, reserved industrial camera signal and mechanical installation interface. It can also accept other camera positioning signals and automatically adjust the position of the processing graphics according to the camera positioning results to ensure the accuracy of the marking position. Avoid deviation of marking result caused by inconsistent product placement. At the same time, with the assembly line, it can realize the automatic visual positioning and marking of the product online, and improve the efficiency of laser processing.
Intelligent modular grafting application: IMF series has a high degree of integration and modular design structure, with powerful system software independently developed by Han's Yue Ming, the equipment has a high degree of intelligence, and can be easily applied to various single equipment or high degree of automation assembly line. It is convenient for customers to realize secondary development and grafting application.
application area
It is mainly suitable for 2D, 3D, deep engraving and large format laser marking applications in high-end manufacturing industries such as automobiles and 3C electronics.
IMF series fiber Laser marking machine is a new intelligent marking equipment which is applied in high-end intelligent manufacturing industry.
Support intelligent production bus docking: MES system, product traceability system, etc. It adopts the simple design idea of high integration, integrates fiber laser, high-speed three-dimensional marking galvanometer, micro industrial computer, marking control system and other modules, and is equipped with displacement sensor, CCD camera, encoder and other external functional interfaces, so that the whole machine has the same high intelligent marking function.
If you want to further experience the magic of intelligent fiber Laser marking machine, we sincerely invite you to come to Yueming exhibition stand of Shanghai Munich light Expo.