At present, there are two ways to mark pipes: spray printing and laser marking. Compared with spray printing, laser marking has more advantages.
The advantages of laser marking on pipes lie in the following five aspects:
The performance of laser marking is stable and reliable
The performance of laser marking is stable and reliable, with long service life, wide temperature range and no consumable components;
Laser marking has zero pollution to the environment and works more environmentally friendly
Laser marking has no radiation, no pollution and no dust;
Laser marking is flexible and easy to use
Laser marking adopts specially designed operation software with powerful function and humanized design, which is easy to operate and can cooperate with automatic production line. It can receive PLT and BMP graphics files and support AutoCAD and CorelDRAW. Barcode, QR code and serial number can be marked. In addition, new characters can be added independently, which is convenient, flexible and easy to upgrade.
The working speed of laser marking is fast
Laser marking adopts on-line high-speed non-stop laser inkjet, with high production efficiency, non-stop production and high efficiency.
Laser marking has high scalability and strong data communication ability
Because the control host of Laser marking machine directly adopts industrial control computer, it has strong communication ability and can connect all anti-counterfeiting data systems to meet the deeper anti-counterfeiting requirements.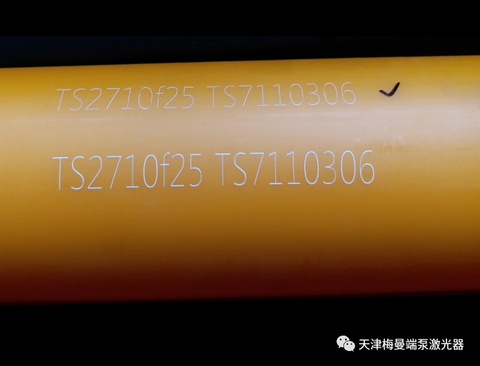 Meymann laser-355nm UV laser
Product features:
Long life, maintenance free, no need for regular dimming
Easy installation, no power supply, direct installation of galvanometer
Reduce cost, no optical path, compatible with optical fiber rack
Meiman laser marking case pipe laser marking as the international popular advanced marking equipment, with its outstanding advantages in all aspects, is now more and more used in PPR pipe. Laser marking machine is famous for its good coding effect and wide application. The Laser marking machine has no physical contact with the workpiece when marking, and damages the workpiece. It can be applied to almost any material.