Let brain cave become reality, 3D cloud intelligent laser marking machine is the first in Jinan
In many people's printing, the
laser marking machine
weighs about many tons, and is usually operated by technical professionals in the factory; Nowadays, a compact, light and easy to operate 3D cloud
laser marking machine
is first launched in Jinan. With it, we can make various kinds of paper prints, all kinds of assembled toys, acrylic pen barrel and so on.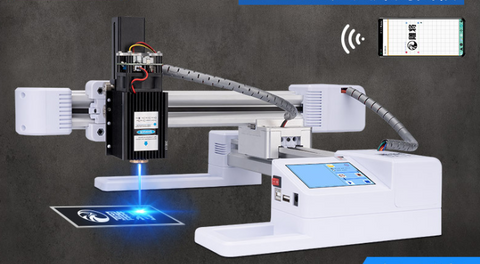 At noon on May 23, jinweike laser was the world's first 3D cloud intelligent
laser marking machine
. This 3D cloud intelligent
laser marking machine
is independently developed and cross-border marketing by jinweike. It is a new laser cutting equipment with advanced technology and specially designed for cultural education and cultivation. It makes up for the vacancy in China's sales market.
Jinan is a large
laser
Industrial Park in northern China, and jinweike laser is a leading enterprise. In recent years, jinweike laser is driven by the original technology and key role of laser, following the deep transformation of intelligent manufacturing system, taking intelligent, digital and intelligent system as the development prospect, increasing the close combination of Internet big data, Internet of things technology, artificial intelligence technology and other new generation information technology with
laser cutting
equipment, and continuously promoting the development of the industry. The announced 3D cloud intelligent
laser marking machine
is 970 mm long, 590 mm wide, 232.5 mm high and 42.8 kg net weight. The whole machine has only one function key. Despite its small size and simple appearance, the device combines AI, Internet of things technology, cloud computing technology and new human-computer interaction technology. After three years of product development, it has finally entered the market.
After on-the-spot performance, children's paintings can be put into the device to obtain the design, and then put in the raw materials for manual carving, and then the device can be started to carry out manual carving with one click" The device is equipped with a 5 million definition AI surveillance camera, which is based on ultra clear fish eye lens and AI Artificial intelligence algorithm optimization algorithm. The system software can intelligently obtain the pattern design. After putting the raw materials into the device, the device can also automatically match the main parameters of actual operation, and the device can be manually engraved with one click to start the device. " Yan Peng, the product operator of Jinan jinweike Intelligent Technology Co., Ltd., introduced in detail that the actual operation equipment does not need to go through professional learning and training, and the computer connection, service platform, mobile phone and other machinery and equipment can be applied" At the same time, it also has the safety factor to open the meter cover and stop, and children can completely grasp the application. " Yan Peng introduced in detail that the equipment can solve the problems of wood board, leather products, metal materials, laminated glass and many other raw materials. Cut beautiful paper-cut with red paper, carve a unique impression on the back of the tablet computer, burn children's pictures into woodblock prints, hand-made small toys in file format... All of these are very likely to write on campus and at home. This product will promote personalized teaching. At the present stage, China has entered the stage from a cultural and educational power to an educational power. Smart education is one of the tickets to an educational power, and the three-dimensional cloud intelligent laser marking machine widens the new boundary of culture and education. Children's all kinds of brain holes, all kinds of design inspiration and artistic creativity can be turned into reality according to the
laser cutting
equipment. According to it, students can design and manufacture, laser cutting, hand carving and build solid models, and reasonably improve their innovative thinking ability and self-learning ability.
Yan Peng introduced in detail that jinweike has set up its own operation and maintenance management center in more than 180 countries to respond to this product professionally, so as to ensure the high efficiency of equipment maintenance management and after-sales service. In addition, according to the Internet of things technology, cloud computing technology can deal with the vast majority of service project operation and maintenance management problems of 3D cloud intelligent
laser marking machine
. According to the online or remote control, we can easily deal with the difficulties encountered.