Ruifeng constant UV laser has superior beam quality, perfect marking ceramic products
Ceramic products have been very popular in China since ancient times, and in modern times, high-quality dishes are often used as raw materials. In order to identify the quality of ceramics or promote the brand, we often choose to mark the surface of ceramic products to highlight the information that needs to be transmitted.
UV laser marking is currently the most commonly used ceramic surface marking process. Compared with the traditional ink jet printing, ruifengheng's UV laser solves its shortcomings such as easy to alter, not environmental protection, limited anti-counterfeiting effect, and unable to be used continuously for a long time.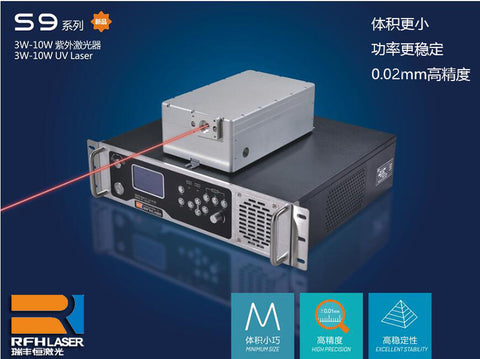 Using ruifengheng's UV laser for marking, the beam quality is superior, the frequency used is absolutely guaranteed, and it can operate stably for 24 hours, and there is no need to change the ink cartridge regularly.
In addition, Ruifeng constant UV laser marking also has other advantages, it can reduce the cost and increase the quality, will not produce harmful substances to the human body and the environment, so that the produced ceramics have no concern in the quality inspection, and can ensure that the content of the marking device is difficult to forge, which has a significant improvement and guarantee in the anti-counterfeiting and safety performance.
In addition, the ceramics can not be worn for a long time, resulting in the disappearance of text patterns. The clear and clean nourishment and environmental protection advanced materials can make consumers feel the high quality, high quality and high grade of these ceramics.
Mr. Zhou is from a ceramic marking machine manufacturer in Jiangsu Province. The S9 UV laser purchased again is mainly used for ceramic logo pattern marking.
The power range of ruifengheng S9 UV laser is 3w-10w, which has excellent beam quality (M2 < 1.2) and is strictly guaranteed in all frequency ranges; Pulse width< 12ns@30k Because of its small heat affected area and perfect spot characteristics (spot ellipticity > 90%), it can produce ceramic marking with both fineness and beauty.
In addition to excellent processing performance, integrated design, convenient equipment integration, unique Q-switch control technology, suitable for all kinds of laser application control needs, self-developed power technology advantages, timely update the power control system function module, and according to the laser demand, improve the function module, have a perfect service system, also is the reason why manufacturers choose ruifengheng laser.
After 13 years of development, ruifengheng laser has won 10 national patent certificates, 14 computer software copyright certificates, and other certificates such as "national high-tech enterprise", "Shenzhen high-tech enterprise" and "software enterprise certification certificate". It is also appointed as the director unit by Guangdong 3D printing industry innovation alliance and Guangdong laser industry Association, In the nanosecond laser industry has established an excellent brand image.