To reduce labor costs and improve production efficiency, seiffel laser promotes fully automatic coupling laser welding system
On September 4-7, 2019, at the 21st China International Optoelectronic Expo, Wuhan seiffel Laser Technology Co., Ltd. will bring a series of popular products, such as automatic six fiber laser welding machine, manual four fiber precision laser welding machine, automatic coupling laser welding system, etc., which can be widely used in 4G and 5g optical devices, such as 2-piece and 3-piece Tosa / Rosa / Bosa laser welding, Help to improve the speed of optical network. We sincerely invite colleagues from the industry to visit, exchange and discuss business with booth 2e29 of hall 2.
The system can realize two-piece and three piece Tosa, Rosa and Bosa automatic coupling laser welding
Product features:
*The production efficiency is as high as ≤ 10s / piece;
*Pass through rate: ≥ 95%;
*The photoelectric data storage is realized;
*Flexible implementation scheme, single station / double station, three beam / four beam optional.
Manual precision four fiber laser welding machine
Product features: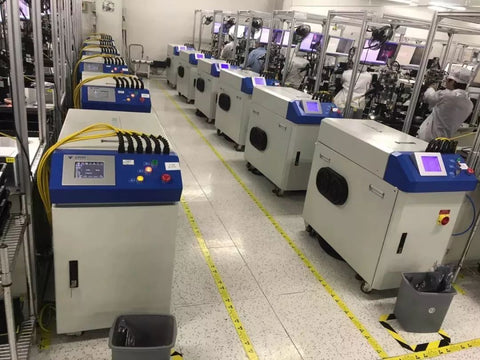 *There are many kinds of combination structures of beams, such as 3-beam, 4-beam, 3 / 4-beam + 1-way power compensation;
*Laser center electric control lifting rotary table;
*Equipment layout from one drag two to one drag four;
*High definition CCD coaxial monitoring;
*Negative energy feedback, inverter boost, optical path shaping, auxiliary tooling technology;
*Rich practice cases provide customers with professional matching solutions.
Automatic coupling laser welding system this system is aimed at the traditional manual coupling welding production process, which requires a large number of skilled staff, and the quality data is not easy to be electronic data, and the per capita efficiency is low. Under the background, it introduces the software control system of automatic coupling operation, determination and positioning welding with independent intellectual property rights.
Product features:
*The production efficiency is high, which is 2 times of the traditional manual coupling welding;
*The through rate is over 90%;
*Welding change is small, change ≤ 10%, accounting for 85%;
*Change ≤ 10-15%, accounting for 10%;
*The skill requirement of the staff is low, and they can work after 3-5 days of training;
*Flexibility, double position, four position, four beam or three beam for customers to choose;
*The main photoelectric data indicators are electronically digitized. CIOE laser technology and intelligent manufacturing exhibition focuses on the professional exhibition of laser fine processing and innovative application, focusing on laser welding machine, Laser marking machine and other laser equipment, laser materials, laser components and devices, laser, special laser applications, intelligent equipment, 3D printing / additive manufacturing, etc., focusing on the application of laser technology in electronic manufacturing, integrated circuit, communication, medical treatment, etc Innovative applications in energy, autonomous driving and other fields. The exhibition is based in South China and radiates across the country, integrating business procurement, exhibition, technical and academic exchanges.