Visual Laser marking machine: dj-ccd800jg
Product features:
Using windows.xp Chinese interface operating system, easy to learn and understand, easy to operate.
The unique intelligent rapid identification and positioning system and high-definition digital camera are adopted to correct the gap deviation between manual and fixture.
The system has intelligent memory function of automatic counting and timing.
Grade 000 granite platform is adopted to ensure that the platform is solid without deformation.
High speed, high reliability, high stability transmission and control system, x, y, z direction movement all adopt imported servo + high precision ball screw + high precision guide rail transmission module.
The mature and stable platform can be used for assembly line operation, and the front and rear parts can be connected with the connection platform and reflow soldering, forming an integrated production line, effectively reducing the production and management costs.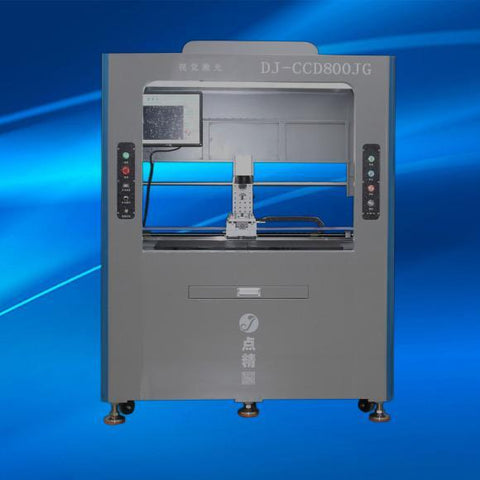 High marking accuracy, high speed and arbitrary control of engraving depth;
High laser power, suitable for carving and cutting a variety of non-metallic products;
No consumables, low processing cost and long operation life of laser;
Clear mark, not easy to wear, high carving and cutting efficiency, environmental protection and energy saving;
Support automatic coding, printing serial number, batch number, date, barcode, QR code, etc;
Powerful graphics drawing and editing function, which can mark color pictures directly or after gray conversion.
Application scope
Purple light, optical fiber, CO2 Laser marking machine can carve a variety of non-metallic materials. It is used in garment accessories, pharmaceutical packaging, architectural ceramics, beverage packaging, fabric cutting, rubber products, shell nameplates, craft gifts, electronic components, leather and other industries. Typical application cases, such as laser flight marking of packaging box, coding and printing of paper and metal detonator shell, etc.
Industry leading, ten year old brand is trustworthy, relying on the unique intelligent fast positioning system, Japanese high-definition camera positioning. Advanced intelligent and efficient visual dispensing gradually replaces the traditional industrial mode. Over the years, it has been built with ingenuity and concentrated on research. Obtained a series of R & D projects.